Year Round
Lager
One of Legendís first beers brewed; Legend Lager offers the comfort of easy drinkability while also bringing a depth of flavor. Using only the finest brewing ingredients, this beer yields a pure, bright malt flavor and a medium body. Modest hopping ...
Brown Ale
The Virginia Original. Our most popular beer, Legend Brown Ale is a full bodied version of an American Brown Ale. Expect a rich, malt-forward brew with a beautiful mahogany tone. Generous amounts of specialty malts bring flavors of sweet caram ...
Porter
The English working manís beer. Rich, roasty, and loaded with chocolate and coffee flavors, this sweet black ale is robust and full bodied. This beer is an excellent pair to any meal, especially meat dishes and desserts. A unique brewing practice al ...
Golden IPA
The Beer that Built an Empire. Legend Golden is a big, full-bodied version of the traditional English IPA with the perfect balance between malty sweetness and hop bitterness. Years ago, as an experimental brew, this underdog of a beer found its way i ...
Pilsner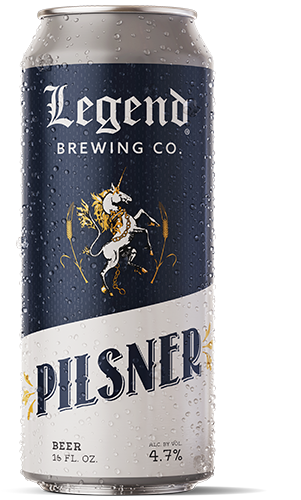 The Taste of Europe. Legend Bohemian-style Our German Pilsner using Pilsner malt, Saaz hops, and a Classic Pilsner yeast. This Pilsner has a spicy and floral aroma complimented by a light grainy, slightly sweet malt. Crisp and refreshing with a clea ...
Seasonal & Limited
25th Anniversary Double IPA 1
This is the first is a series of three celebratory Double IPAs commemorating Legend Brewing Company's 25th anniversary. Each edition will feature different hop combinations. We chose a duo of old school hops to get things started. Centennial and Am ...
Spring Pale Ale
Legendís American Pale Ale is brewed to welcome in warmer weather and days spent outdoors. Expect a light honey color and a mild malty body with just a hint of caramel sweetness. Hop aromas start out spicy and herbal; the addition of moteuka and lem ...
Ember Ale
Expected a nose of ripe fruit, floral/herbal hops, and sweet malt in this rich copper colored English style ale. This beer is designed for a balance of its flavor components. Fruity esters mingle with caramel, graham cracker and honey malt flavors. M ...
The Taproom Series
Bourbon Barrel Brown Ale
We've joined forces with a local distiller of fine spirits to bring you a rich and bold experience. We've taken our Legend Brown Ale and allowed it to mature in the oak bourbon barrels of the A. Smith Bowman Distillery for six weeks. A layer of boozy ...
Anniversary Imperial Brown Ale
To celebrate our Anniversary and pay tribute to our Brown Ale, every year we brewed a bolder and robust version of the Legend Brown. The imperial version has an even fuller body, stronger malt flavors, and an added hop character. Seven types of barl ...
Legend Belgian Style Tripel
Six months of aging brings a soft smoothness to this sweet, complex ale. Legend Tripel is brewed on a Belgian abbey style yeast strain which imparts flavor combinations such as banana, clove, apple, pear, even bubblegum. This is best served with frie ...