Seasonal & Limited
Irish Stout
This black and creamy stout has flavors of barley, coffee and dark chocolate and has a bone-dry finish and a medium body. Show Less
Legend Belgian Style Tripel
Six months of aging brings a soft smoothness to this sweet, complex ale. Legend Tripel is brewed on a Belgian abbey style yeast strain which imparts flavor combinations such as banana, clove, apple, pear, even bubblegum. This is best served with frie ...
Barleywine
Legend Barleywine is generously hopped to balance the huge malty sweetness. Hops account for the bitter and spicy flavors in a beer. We also dry hopped this ale, giving it a pronounced spiced-floral aroma. Expect a very rich, ruby colored, robust b ...
American Wheat Ale
Legend American Wheat Ale is a pale, refreshing, light-bodied ale. Flavors of malted wheat. Honey and light hoppy presence from Appolo and Motueka hops are complimented by flavors of mellon and pear produced during fermentation on Norwegian hot-head ...
Z Dam Ale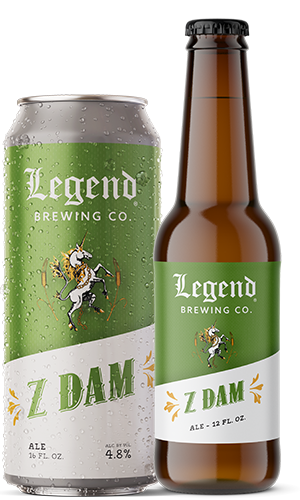 This pale gold ale sports a light body and a clean malt flavor. Refreshing and quenching, Z Dam evokes an acute zestiness driven by a balance of late kettle hops and the addition of ginger, orange and lime in the boil.