Seasonal & Limited
American Wheat Ale
Legend American Wheat Ale is a pale, refreshing, light-bodied ale. Flavors of malted wheat. Honey and light hoppy presence from Appolo and Motueka hops are complimented by flavors of mellon and pear produced during fermentation on Norwegian hot-head ...
Z Dam Ale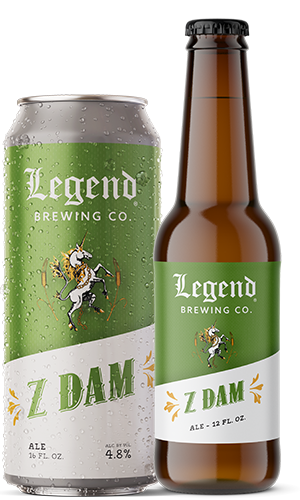 This pale gold ale sports a light body and a clean malt flavor. Refreshing and quenching, Z Dam evokes an acute zestiness driven by a balance of late kettle hops and the addition of ginger, orange and lime in the boil.
Oktoberfest
Legend Oktoberfest is a celebration of malt harmony. Brewed on the base of Vienna malt, Oktoberfest boasts flavors of toast, honey, and caramel. With an underlying tang, this Märzen-style lager is rich and flavorful while remaining light enough to re ...
Winter White
Spicy hops blend with hand-picked flavors of coriander and orange peel in our winterized take on the classic Belgian witbier. This brew starts with a mash of Belgian malts and wheat and finishes rich and sweet-bodied with a tangy crispness and flavor ...