Year Round
Lager
One of Legend's first beers brewed, Legend Lager offers the comfort of easy drinking while also bringing a depth of flavor. Using only the finest brewing ingredients, this beer yields a pure, bright malt flavor and a medium body. Modest hopping and c ...
Pilsner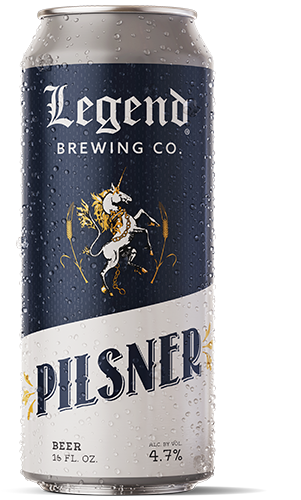 Legend Pilsner is crafted with Pilsner malt, Saaz hops, and a classic Pilsner yeast. Spicy and floral aroma complimented by slightly sweet malt. Crisp and refreshing with a clean bitterness.
Brown Ale
The Virginia Original. Our most popular beer, Legend Brown Ale is a full-bodied version of an American Brown Ale. Expect a rich, malt-forward brew with a beautiful mahogany tone. A generous amount of specialty malts brings flavors of sweet caramel, t ...
Porter
The English working man's beer. Rich, roasty, and loaded with chocolate and coffee flavors, this porter is robust and full-bodied. This beer is an excellent pair to meat dishes and desserts. A unique brewing practice allows us to achieve a remarkable ...
IPA
A full-bodied version of a traditional English IPA. With a perfect balance of malt sweetness and hop bitterness, this strong ale flaunts an aroma of sweet malt and clean hops and finishes with earthy undertones. In the pubs, the IPA outsells all othe ...
Hazey Days IPA
This New England-style Hazy IPA is opaque with soft carbonation and a smooth mouth feel. Unfiltered for the telltale haze, this IPA is dry-hopped with Citra and Azacca for big, juicy flavor and aroma with medium bitterness. Our Hazey Days IPA also fe ...
Berliner Weisse
Our classic German-style Berliner Weisse is mildly tart and refreshingly crisp. Well-carbonated with a clean finish, this beer is a year-round favorite. Rotating flavors include traditional, blood orange, raspberry, and black cherry.
Seasonal & Limited
Irish Stout
This black and creamy stout has flavors of barley, coffee and dark chocolate and has a bone-dry finish and a medium body. Show Less
Legend Belgian Style Tripel
Six months of aging brings a soft smoothness to this sweet, complex ale. Legend Tripel is brewed on a Belgian abbey style yeast strain which imparts flavor combinations such as banana, clove, apple, pear, even bubblegum. This is best served with frie ...
Barleywine
Legend Barleywine is generously hopped to balance the huge malty sweetness. Hops account for the bitter and spicy flavors in a beer. We also dry hopped this ale, giving it a pronounced spiced-floral aroma. Expect a very rich, ruby colored, robust b ...
Oktoberfest
Legend Oktoberfest is a celebration of malt harmony. Brewed on the base of Vienna malt, Oktoberfest boasts flavors of toast, honey, and caramel. With an underlying tang, this Märzen-style lager is rich and flavorful while remaining light enough to re ...
American Wheat Ale
Legend American Wheat Ale is a pale, refreshing, light-bodied ale. Flavors of malted wheat. Honey and light hoppy presence from Appolo and Motueka hops are complimented by flavors of mellon and pear produced during fermentation on Norwegian hot-head ...
Winter White
Spicy hops blend with hand-picked flavors of coriander and orange peel in our winterized take on the classic Belgian witbier. This brew starts with a mash of Belgian malts and wheat and finishes rich and sweet-bodied with a tangy crispness and flavor ...
Z Dam Ale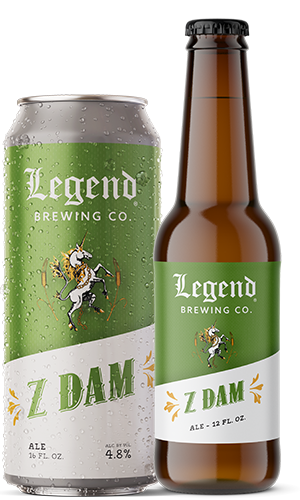 This pale gold ale sports a light body and a clean malt flavor. Refreshing and quenching, Z Dam evokes an acute zestiness driven by a balance of late kettle hops and the addition of ginger, orange and lime in the boil.
Legend Chocolate Porter
Porter by standard description is a rich, sweet, opaque ale. Porter by Legend standards exceed these parameters, for its flavors are sharp and elevated. We generously added dark malts to this brew, including Caramel and Chocolate malts. By blending i ...
Vampire Imperial Red Ale
The Vampire Red Ale is opaque with soft carbonation and a smooth mouth feel. Unfiltered for the telltale haze, this IPA is dry-hopped with Citra and Azacca for big, juicy flavor and aroma with medium bitterness. With flavors of tropical, stone, and ...